The annual exhibition organized at the SATRUS 2010 conference traditionally complements the official program of the conference and brings together leading national and international manufacturers of space communications systems, solution providers, integrators and consultants of the Industry.

The SATRUS 2010 exhibition is undoubtedly considered to be one of the major specialized exhibitions and it can not be missed by the participants of the satellite communication and broadcasting market.
 
To enable the exhibitors to have the best possible contact with the delegates the exhibition is situated in the hall where all coffee breaks will take place.

The exhibition package includes exhibition area rent or standard booth. You are welcome to choose low-budget options.

To discuss your sponsorship & exhibition requirements please contact:

Stephan Spirov
Manager, Sponsorship and Exhibits
Telephone: +7 (495) 775-1720, 933-5483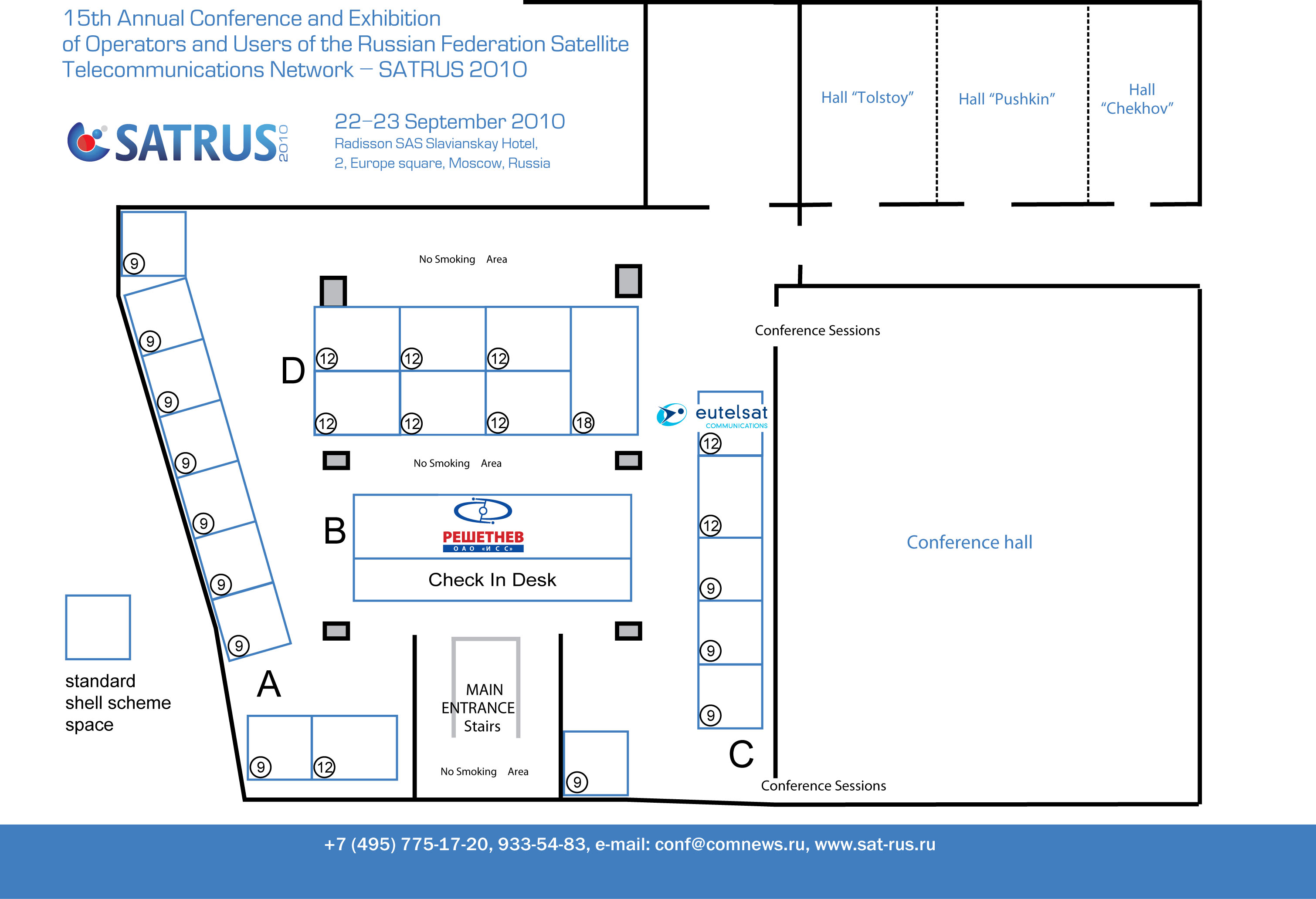 ADVERTISER:
Malakut Constellation Insurance Brokers CJSC is a member to Malakut Group, was established in May 2008.

С

ompany's major business is in the sphere of space industry and military-industrial complex risks servicing and also the innovation activities related risks. For us the establishment of a separate company which has a strongly marked profile is associated with our wish to concentrate on unique needs of our clients, to find more appropriate solutions for their interests protection and to build effective risk management system with a view to space industry specific.
EXHIBITOR:
Thales Alenia Space strengthens its European leadership in space systems with the provision since the beginning of the year of 5 telecommunication satellites, 2 telecommunication payloads, 1 observation satellites and the LEO constellation for 03b networks (16 birds). In 2008 Thales Alenia Space is performing a strong industrial activity and is participating 20 missions using all types of launchers.

 European leader for satellite systems and at the forefront of orbital infrastructures, Thales Alenia Space is a joint venture between Thales (67%) and Finmeccanica (33%) and forms with Telespazio a Space Alliance. Thales Alenia Space is a worldwide reference in telecoms, radar and optical Earth observation, defense and security, navigation and science. Thales Alenia Space has 11 industrial sites in 4 European countries (France, Italy, Spain and Belgium) with over 7,200 employees worldwide. 
                                      



 
The JSC "Academician M.F. Reshetnev" Information Satellite Systems" is a leading company in the Russian space industry, whose  operations focus on the design, development and manufacture of spacecraft and satellite systems for various applications, such as fixed-line and mobile telephony, navigation, geodesy and data relaying. The number of spacecraft developed at the JSC "Information Satellite Systems" makes up 2/3 of the Russian orbital constellation. In the last fifty years the Siberian satellite manufacturer has developed and built over 1200 spacecraft. The JSC "ISS" is a prime contractor that designs and develops spacecraft and associated ground control equipment for the GLONASS Global Navigation System. The company is building Express-AM5/6, Yamal-300K and Yamal-401 telecommunications satellites for Russian operators RSCC, AMOS-5  for Israel and  TELKOM 3 for Indonesia. Besides, there is parallel work going on the development and manufacture of geodetic and data relay satellites. Among these are GEO-IK-2, Loutch-5A, Loutch-5B and Loutch-4. The JSC "ISS" also provides space solutions for the Russian military.
 
With capacity commercialised on 27 satellites that provide coverage over the entire European continent, as well as the Middle East, Africa, India and significant parts of Asia and the Americas, Eutelsat is one of the world's three leading satellite operators. Eutelsat's satellites

are

broadcasting more than 3,200 television channels and 1,100 radio stations. The Group's satellites also serve a wide range of fixed and mobile telecommunications services, TV contribution markets, corporate networks, and broadband markets for Internet Service Providers and for transport, maritime and in-flight markets. Headquartered in Paris, Eutelsat and its subsidiaries employ almost 600 commercial, technical and operational experts from 28 countries.  In late 2009, Eutelsat will launch W7, a new satellite that will enhance the increasingly important multi-satellite neighbourhood at 36 degrees East. W7 will replace the existing SESAT 1 satellite that has been in service at that location since 2000. Co-located with the W4 satellite, which currently broadcasts the major pay-TV packages to the CIS, W7 will almost triple the capacity over Russia and other neighbouring countries. 
 


 

 ARD Satcom Service LLC

was legally incorporated in 2001 but our key personnel operating under this business name were known in the communications community already in the last century. Over eight years of fruitful operations, we have gained a steadily positive reputation, accumulated a wealth of experience in new application areas, and considerably expanded our technical capabilities, something which allows us to position ourselves as one of the best companies to offer comprehensive solutions to operators and successfully develop our business in the market for telecommunications systems.

As part of mutually beneficial cooperation with cellular and satellite telecommunications, digital television and radio broadcasting service providers, ARD is in a position to help with the choice of an optimal technical solution, provide engineering, construction and installation services, supply telecommunications equipment, and offer the comfort of commissioning and technical follow-up.

We regard any task as important. A request to supply waveguide gasket will not be left without attention even while working on a federation-wide network project.

ARD is strategically focused to offer a comfortable contact point to our customers as part of the project implementation, constantly confirm reputation of a reliable supplier, and demonstrate professionalism in all business aspects and comprehensive approach in technical solutions.

All these qualities are part and parcel of the company's work which are appreciated by both equipment manufacturers and customers.

This approach is a guarantee to our partners that ARD will give them an opportunity to stay one step ahead of others and always be successful in achieving their objectives.  



 
 
 
Founded in 1985 in Belgium, Newtec is a recognized global market leader in the Satellite Communication Industry, offering highly innovative products and solutions for the ground segment of television, telephony and data networks. 

Azimuth is a family of professional equipment for the TELCO and broadcast market  including DVB-S2 modulators and demodulators, frequency converters, redundancy switches and more
Elevation is a family of professional IP modems, receivers and appliances for applications such as IP trunking.
Horizon is a range of integrated transceivers used in terrestrial or mobile television networks.
Sat3Play is a satellite broadband access system providing 2-way connectivity from cost effective, easy-to-use and easy-to-install interactive terminals.
Menos – Multimedia Exchange Network Over Satellite is a unique satellite system for the exchange of television and radio material in a broadcast network.
Tellitec – is  a range of IP software products for traffic enhancement, traffic shaping, encryption and reliable content delivery.

Newtec has offices in Belgium, the USA, China, Dubai, Singapore and Brazil.



Orion Express Ltd is a satellite TV operator covering all territory of Russia. The company was established in 2005, and currently provides DTH-services, as well as services for TV channels delivery via Intelsat 15 satellite (85,15° E), Express AM3 (140° E) and TV channels distribution for cable network operators.

1. SATELLITE TV FOR RUSSIAN PEOPLE

Continent TV

(Intelsat-15, 85,15° E) Covers European, Ural and Siberian parts of

Russia

Eastern Express

(Express

АМ

3, 140° E) Covers Siberia and

Far East

 


2. TV CHANNELS DISTRIBUTION IN CABLE NETWORKS

Orion Express delivers 16 channels for cable operators' networks: KHL (Continental Hockey League),

Футбол

(Football), KidsCo,

Детский мир

(Child world),

Любимое кино

(Favorite cinema), Zee TV,

Мир Сериала

(The world of serials), TV XXI, Ocean TV, Galaxy,

Шансон

(Shanson), 1Rock, Extreme Sports, as well as new channels Мужской (Men TV), Загородная жизнь (Country life) and Успех (Success) exlusively!


3. TV CHANNELS UPLINK AND DELIVERY

Capacity for TV channels on Intelsat-

15 (

85,15

° E), Express

АМ

3 (140° E).

Service support for TV channels, including terrestrial and space facilities of Orion Express


— MPEG-4/DVB-S2, MPEG-2/DVB-S standards
— Irdeto CAS
— 24/7 customers support service